The Idea that Shook the World
Location: Science Gallery, Trinity College Dublin
Audience: General Public
Date: Saturday 21st June 2008 8:00pm
One of the most important advances in human understanding and surely the most enduringly controversial scientific discovery of all time is 150 years old and its discoverer Charles Darwin celebrates his 200th Birthday in 2009. All around the world this advance in human understanding will be celebrated. This event was organised iSCAN to highlight the coming anniversary and to stimulate interest and encourage activity for 2009.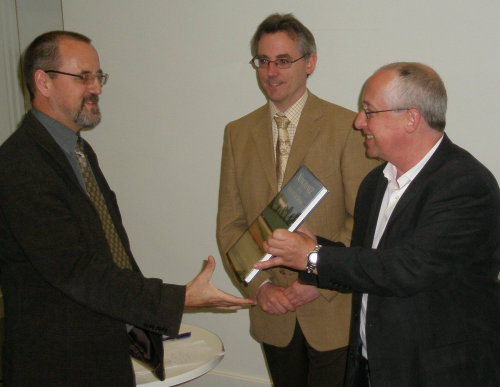 Bob Bloomfield (left) receiving a presentation from Nigel Monaghan (right) with Eoin Gill (centre) at the Darwin200 Ireland inaugural event at Science Gallery TCD Dublin 21st June 2008.
Speaker
Dr Bob Bloomfield Natural History Museum London and Coordinator Darwin200 outlined Charles Darwin's life and works, exploring how he formulated his theory of evolution by natural selection, which caused a storm that is still blowing in places, despite the weight of evidence that has grown in the last 150 years. Dr. Bloomfield highlighted the plans in the UK and around the world to celebrate Darwin200
A new film on Darwin, an Open University course on Darwin and natural selection, TV series, visual arts, theatre and a European wide Evolution Megalab involving tens of thousands of people. These are just some of the events coming for Darwin's 200th birthday in the UK
Eoin Gill, CALMAST and Nigel Monaghan, Natural History Museum, Dublin outlined Irish plans to celebrate the anniversary. Following this there was a general audience discussion exploring ideas for Irish celebrations. A number of groups have now agreed to run events for Darwin200 Ireland and a special website www.darwin200.ie will be launched.
Bob Bloomfield Biography
Bob Bloomfield PhD is Head of Innovation and Special projects at The Natural History Museum, London and coordinator of Darwin 200 and a previous Fellow of NESTA (National Endowment for Science Technology and the Arts). He is a senior practitioner in Science communication who studied Earth and Biological Sciences and completed a doctorate in Genetics. After a brief career in formal teaching and lecturing he joined The Natural History Museum to pursue his interest in informal learning and interpretative design. This has culminated over the past decade in leading major science communication projects including the Museum's Earth Galleries and the Darwin Centre. This latter project led to a major innovation in how the Museum's scientific staff engaged in discussions and dialogue about their work with the visiting public. Back in 1994 Bob was jointly responsible for The Natural History Museum being the first UK Museum to have an Internet presence and his innovation work continues to reflect his interest in the effective use of new media and network technologies for science communication. In exploring communication to diverse audiences he has been engaged in wide ranging projects, many integrating aspects of engagement, dialogue, Art-Science and encouraging active citizenship.
Bob is senior policy developer and strategic manager for initiatives in the field of Science and Society and he gave evidence to the 1999 House of Lords Select Committee examining this issue. A particularly interest throughout his work has been looking at the importance of Evolution to the understanding of science today, and how this issue relates to wider perspectives within society. A major project he is engaged in currently is the plans for celebrating Charles Darwin's achievements during Darwin200 - the bicentenary of his birth in 2009.